Cleaning your Mac is one of the most important things to do in making sure your system is safe. However, many people don't think of Mac cleaner
Installation instructions for your CleanMyMac, PC cleanup tool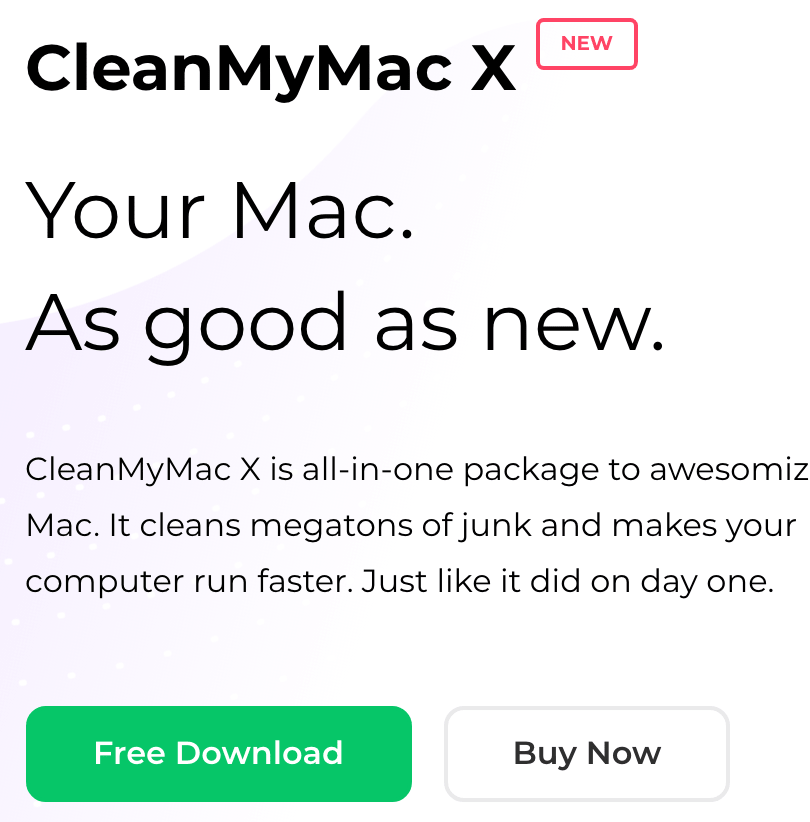 You will see a green button with the words "Free download" click on that button. You will get a file named CleanMyMacX.dmg.
Next, install the cleanmymac application on your computer
After you have successfully installed your computer, start up cleanmymac. The first time you start you will get a notification as follows. I am currently choosing version X.
Please choose to agree to the terms and then press OK.
In my opinion, the new interface of X version this time is very beautiful, colors are harmonious and easy to use. The main functions are clearly arranged.
If you're a busy person or don't want to spend a lot of time, just press the black button called Scan and let the software work. You can go for a cup of coffee and relax.
Looking at the interface of cleanmymac, I can see the main items such as cleanup, projection, speed, application, files.
Now I will use the Smart Scan function to check how cleanmymac will clean up my system.
Cleanmymac smart scan mode will do the following tasks: Cleanup, protection, speed.
I can see that at the cleanup task, cleanmymac will search and capacity statistics can be deleted for me. Here is 1.73GB. For details, you can click Review Details … to check which files, folders have been scanned, uncheck the folders you do not want to delete. With projection work, my device is now very safe. Report with a big blue OK. I can be assured of work and less worried about the danger from the outside.
The final work is to speed up the system. 3 tasks need to run to speed up my system. As far as I know, these jobs are clean ram to optimize ram to speed up the system.
Next I started cleaning up, optimally by cleanmymac.
I continue to click on the Run button. Speed of cleaning, optimization is very fast. Clearing junk and speeding up the system as mentioned above is very fast.
So I introduced briefly to you a tool to clean up the computer for Mac version X. With easy use this tool will help you clean, clean up, optimize, delete files, Recover deleted files, optimize your ram. Easy-to-use, minimalistic, beautiful color tool gives me a good feeling.
Also you can explore other functions in the left menu bar. You will have to understand and know a lot about your computer to choose the right jobs such as protecting you from mailware, removing applications, deleting files, optimizing system speed.
CleanMyMac

 cleanup tool, delele files, optimize Mac – 2019

I am currently using a 30-day trial version that you can buy to use. With this 30-day version, I like it for ease of use. Software with many other advanced functions for your different purposes.

You can see the price of cleanmymac here https://macpaw.com/store/cleanmymac

You will have a lot of price options such as buying 1 year, buying once and including special packages.

Hopefully through this article you will get yourself the experience of cleanmymac software. The main functions are cleaning, deleting files, clearing junk, preventing malware, optimizing computer systems.

You should clean your computer regularly, cleaning your computer regularly will help your computer faster, prevent malware from losing important data. File deletion and file recovery also make you more proactive.
Information about configuration
System Requirements: macOS 10.10+, 145 MB
Pricing: Starting at $39.95
CleanMyMac

 cleanup tool, delele files, optimize Mac – 2019

CleanMyMac tool for cleaning, refreshing, deleting junk files, optimizing Macs, automatically cleaning, recovering deleted files, stability, battery saving.
Sponsored Links