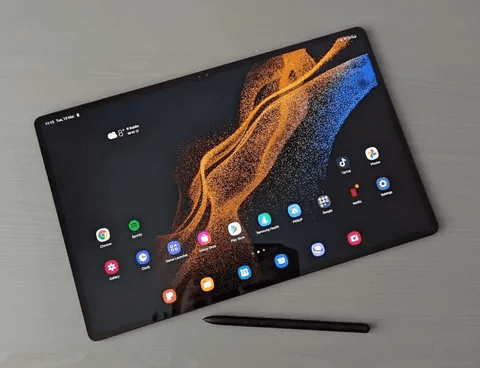 Samsung's premium Galaxy Tab S9 series is expected to arrive later this year with IP67 ratings that set them apart from their peers. However, according to a new leak, the tablets may not be equipped with Qualcomm's latest flagship chipset.
Samsung typically releases its tablets in 18-month cycles. The Galaxy Tab S8 series was launched in February last year alongside the Galaxy S22 series. The South Korean company is expected to debut the Galaxy Tab S9 lineup in August this year, and a new leak has now hinted at a possible detail of the premium tablets.
According to the leaker Digital Chat Station, Samsung is not set to equip the Galaxy Tab S9 series with the new Snapdragon 8 Gen 2. Instead, the tablets are being readied with last year's Snapdragon 8+ Gen 1 chipset.
While the Snapdragon 8+ Gen 1 remains an incredible flagship-grade chipset, far outperforming the Snapdragon 8 Gen 1 on the Galaxy Tab S8 series, it is surprising that Samsung would not equip its latest tablet lineup with the latest chipset. Samsung's tablet lineup is usually treated as first-class citizens with all expected benefits.
It remains to be seen whether this leak has much substance to it or not. Digital Chat Station is usually spot-on for Chinese devices, but this information should be taken with a pinch of salt. We will keep you updated as more information becomes available.
In any case, the Samsung Galaxy Tab S9 lineup is still expected to offer a big jump in performance over its predecessors, thanks to the Snapdragon 8+ Gen 1 chipset. With the added benefit of an IP67 rating, the tablets are sure to be one of the most impressive offerings in the market when they launch later this year.
Sponsored Links